Help, I can't control my pee and it's leaking!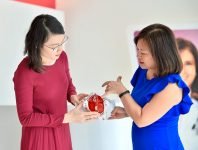 If your pee starts to leak, even a little, it is NOT normal.
Many women are unaware that this could be a potentially serious problem, but one that can be treated.
"If you ask your female friends whether a leaky bladder is normal, they'll say yes.
"Women think that after childbirth, it's normal to leak when they cough and sneeze. It is not!
Read more at this link.
Did you know: Vibrance has a Full Pelvic Assessment to check your pelvic floor muscles.
To book a pelvic consultation,
click here
. To learn more about the award winning home use pelvic training device, Vibrance Pelvic Trainer,
click here
. To learn more about the clinically proven holistic pelvic strengthening program, Pelvic360,
click here
.