Ever so often, we receive enquiries from partners who strongly suspect that their other half has vaginismus but are frustrated because their partners refuse to go for therapy or seek professional opinion.
If this is you, what can you do?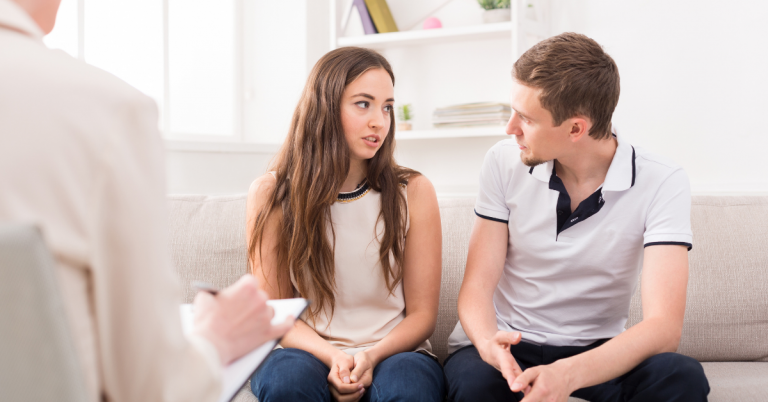 Understand what your 'support' means and where it counts the most for your partner
Vaginismus is both a "We thing" and "Me thing".
Understandbly, you are ready and keen to support your partner, but be mindful that vaginismus also affects your partner on a very individual level. So the first thing is – don't push.
From the few hundred vaginismus cases we've successfully treated – your support can take different forms and still be as helpful towards your partner's success in overcoming vaginismus.
Support by Doing it together
Some couples prefer to overcome vaginismus together – not because they feel obliged to do everything together, but due to their high degree of alignment or just the way they function best.
Support her Doing it 'alone'
It is possible that your partner may want to deal with it by herself.
Your partner may not be ready to include you, and may only require your love and patience to let her deal with it at her own pace. This is also a form of support that works.
No matter which pathway, a vaginismus individual can be cured with proper vaginismus care, along with support in the form that your partner is most comfortable with.
1+3 Practical Actions that you can share with her
With that understanding, we come back to the earlier problem. So how can you help if your partner is unwilling to even take the first step?   
We recommend 'small bites', small, incremental steps that can guide her towards seeing a vaginismus treatment professional: 
0. Probably avoid further attempts before getting professional guidance
It is very common that prior experiences can cause further, future trauma or psychological impact with every subsequent failed attempt. We see this happening a lot in our vaginismus clients. 
When that happens, it can get more and more difficult to treat. Learned fear can be deeprooted and significantly harder to unlearn. 
Your temporary restraint can help your partner tremendously in the long run. 
1. Start with a small 'Yes'
If you're reading this, chances are you are much more informed and knowledgeable about vaginismus than your partner. 
So share what you've read with her, getting her more familiar and accepting of the topic. It can also remove some of the fear and uncertainty that she may have. 
We have written quite comprehensively on the topic and it can be a good starting point for your partner's self-education. 
2. Hear from peers who have the same issues
Join a vaginismus support group
It's natural to feel isolated and alone when faced with vaginismus. 
You don't know how to talk to your parents about it, if you ever felt like talking about it at all. 
You have not even heard of the word vaginismus before, and it wasn't a real thing to your knowledge. 
Your peers start popping up with babies at a certain age and you appear to be struggling with something so 'normal' like sexual intercourse. 
We've started a Vaginismus Support Group where women and couples who have the same issues, at different stages of overcoming it, and some who have successfully overcome it, all willing to share information and experiences. It can be a great form of external peer support. 
You can share this resource with her here:
https://www.facebook.com/groups/vagsupportgroup/    
3. Make a pact to see a medical professional together
Admitting that you may also have a contributory reason to the failed intercourse may be helpful to create the "we're in this together" situation, which is likely true given that sexual dysfunctions can have effects on both parties, including your confidence level during the next attempt. 
So make a pact with your partner that you will also be seeing a vaginismus treatment professional to assess the situation, to get an initial consultation. 
Show her that there are options which she can pick based on her comfort and readiness level.
The Face-to-Face option
This is usually the better option. 
What happens when couples or individuals come to Vibrance for vaginismus consultation – is that we uphold the principle of 'cause no further trauma', something that many of our vaginismus clients go through when certain medical professionals do forceful examinations. 
Help her see and focus on what is there to be gained. 
There is more information on the condition and symptoms, and how to overcome it completely. 
There is a professional who is able to help with extensive experience in helping indiviudals and couples overcome vaginismus (>500 couples since 2018). 
There is no further harm or trauma introduced. 
You can also offer to pay for the consultation as a supportive gesture. Every small 'yes' counts and helps.  
The Online option
Sometimes your partner may not feel ready to be intimately vulnerable with a stranger yet, and that's understandable. 
We find that online consultations can also help as a 'small yes' step towards being responsive to overcoming vaginismus. 
You can schedule one by getting in touch with us here:
https://vibrance.com.my/contact-us/ 
We hope these steps can help you and your partner overcome vaginismus one step at a time. 
To book a pelvic consultation,
click here
. To learn more about the award winning home use pelvic training device, Vibrance Pelvic Trainer,
click here
. To learn more about the clinically proven holistic pelvic strengthening program, Pelvic360,
click here
.